Max Abaddon and The Crystal King: A Max Abaddon Urban Fantasy Novel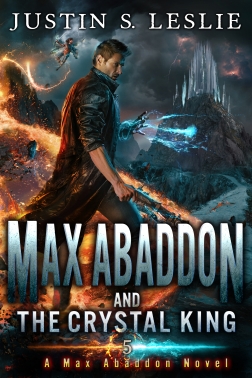 A Max Abaddon Urban Fantasy Novel
Max always knew he would end up on the Plane one day. What he didn't expect were the circumstances. Since finally putting an end to the Soul Dealers, the crew finds themselves once again in the middle of a larger-than-life problem.
With the magical misfires growing more dangerous, the Council sends Max to the Plane with a simple task. Fix it… This time Max, Petro, Phil, and a mixed group of hopefully new friends set off on a crash course with destiny. Not only will Max and the others have to be careful, but also figure out how to handle the Queen of the Fae Titania, without getting themselves killed.
Between Max's newfound responsibilities and knowledge of a certain someone still being alive, things are about to get messy…
★★★★★ "Justin is quickly becoming a force to be reckoned with in the UF market." Hunter Blain-Okayest Selling Author of the Preternatural Chronicles.
★★★★★ "1 part Dresdin, 1 part Verus, and 3 parts Max. Phil is going to call this drink the Urban Freaker." P.Wilson
★★★★★ "Another gem in the Max Abaddon series!" B. Jackson
★★★★★ "Makes other books of this type seem simplistic, WOW." David
★★★★★ "Just Wow. More thought out than most other UF offerings out there." James
★★★★★ "Good Story." Bigfoot
Fans of Ben Aaronovitch, Jim Butcher, Ilona Andrews, Benedict Jacka, Kevin Hearne, Richard Kadrey, Shayne Silvers, Patricia Briggs, and BR Kingsolver will not want to miss this latest addition to the urban fantasy scene!
978-1-7376027-2-9