Max Abaddon and The Will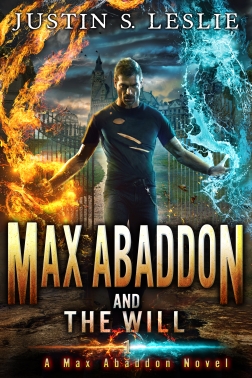 A Max Abaddon Urban Fantasy
Published by J.S.L, J.S.L
A gripping urban fantasy, Justin S. Leslie's Max Abaddon and the Will is about an ordinary guy who discovers an extraordinary calling.
Max Abaddon just got his lucky break...kind of…
Nearly thirty, and unemployed Max Abaddon spends most of his time in an empty beach, apartment, usually hungover. His grandfather's recent death has done little to help him in the ambition department, but he soon gets a phone call that turns his life upside down.
Most people inherit a house, a pet, a car, or money. As luck would have it, Max is left a job that forces him to accept that magic is real, and he'd better learn how to use it. Soon... With little time on the clock, he must realize how to use his new supernatural abilities to protect the balance between the regular world and everything else that goes bump in the night.
As Max helps uncover a murderous plot set to destroy that balance, he unearths dark secrets that lead him to question everything and everyone he thought he knew. A new world full of mythical beings, odd cocktails, and magical powers has overtaken the one Max knows. He'll need to be careful of who he trusts, and figure out how to make time to go to his favorite bar the Fallen Angel.
Reviews
★★★★★"It will be a movie just wait!" R. West
★★★★★ "Makes other books of this type seem simplistic, WOW." David
★★★★★ "Can't wait to read the rest of the series!" R. Towne
★★★★★ "Damm magic man got me, got me hooked!!" L. Lewis
★★★★★ "A fresh take on urban Fantasy! Max is the new kid on the block." S.Jackson
★★★★★"A good mix of humor and action." M.Peterson
★★★★★ "Great world building I may have to visit Saint Augustine." M. Baker
★★★★★ "Write a book about Phil!!!" A.Gilbert
★★★★★ "Pays homage to the genre." K.Sellers
★★★★★ "1 part Dresdin, 1 part Verus, and 3 parts Max. Phil is going to call this drink the Urban Freaker." P.Wilson
★★★★★"Enough tropes to feel at home yet a new take on the world. The series looks like it is going to take on the magical community coming out of the closet. I'm sold." E.Collin
Fans of Ben Aaronovitch, Jim Butcher, Ilona Andrews, Benedict Jacka, Kevin Hearne, Richard Kadrey, Shayne Silvers, Patricia Briggs, and BR Kingsolver will not want to miss this latest addition to the urban fantasy scene!
E-Book | 273 pages | E-Book | 978-1-7331873-1-2 | December 9, 2019