Released: Part 3 of the Sinking Man Series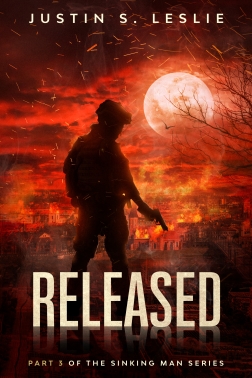 Part 3 of the Sinking Man Series
Ben and his newly found companions are back. This time things are getting complicated for the team, when Ben finally arrives at the gates of Tallahasse, better known as "The Capital".
While Ben and Dan's group are working to free Sarah, Kelly and Ian are having their own issues behind the walls of their secluded upscale riverside neighborhood.
Ben and the crew have a consequential choice to make. How to save Sarah, and avoid the oncoming wall of zombies. For Ben, the entire situation seems to be a little too manufactured. Is someone causing the onslaught? Or is it just a case of bad luck?
The Sinking man series follows Ben's journey in North East Florida to reunite with his wife Sarah and survive a world full of zombies.
"Remember, no matter what happens. Stick to the plan."
Reviews
★★★★★"Finally, a well thought out take on the Zombie genre!" A. Bennet
★★★★★"Gritty and needed." S. King
★★★★★"This is the type of Zombie story I wish they would make a show about!" T. Anderson
Fans of Keith C. Blackmore, Robert Kirkman, and Max Brooks, will want to read this series!
978-1-7353035-4-3