Max Abaddon and The Purity Law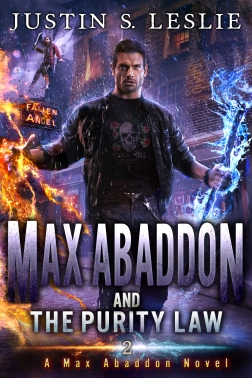 A Max Abaddon Urban Fantasy Novel
Published by J.S.L
Max Abaddon and The purity Law…Book 2 of the Max Abaddon Series.
From the back cover
Twelve months ago, Max was living what one would consider a normal life. That is, until he-learned he was a little more than your average thirty year old. Together with a team of eclectic mages working out of an estate known as the Atheneum, they destroyed the Fountain of Youth and stopped a plot to disrupt the upcoming talks about the magical and Ethereal communities coming out to the normal world, known as 'The Balance', but only for the time being.
Since then, things have been quiet. Max has been settling into his new nine to five job with the transitions office, a division of the National Council of Traditional Sciences (N.C.T.S), registering Mages and Ethereals alike in preparation for the inevitable Balance. Unfortunately, things don't remain quiet for long. With his powers starting to finally take shape, the magical community realizes that Max is not your normal run-of-the mill junior mage. Max is faced with new challenges in his training and for that matter, his career, when he is visited by an old acquaintance hell bent on exposing what the transitions office true purpose is. His new job may not be as simple as it seems, as Max decides to rally the team at the Atheneum to investigate why the registration information he is gathering is needed, and even worse, what it's being used for.
Together with his most trusted pixie comrade, Petro at his side, Max realizes the group that they ran into a year ago is back. As he perfects his powers under the leadership of his new sponsor, will Max and the team be able to stop the Thule society and ensure the talks for 'The Balance' are carried through? Will he end up learning the true nature of the transitions office? Again most importantly, will Max find time for a drink or two at his favorite bar, the Fallen Angel?
Reviews
★★★★★"It will be a movie just wait!" R. West
★★★★★ "Makes other books of this type seem simplistic, WOW." David
★★★★★ "Can't wait to read the rest of the series!" R. Towne
★★★★★ "Damm magic man got me, got me hooked!!" L. Lewis
Fans of Ben Aaronovitch, Jim Butcher, Ilona Andrews, Benedict Jacka, Kevin Hearne, Richard Kadrey, Shayne Silvers, Patricia Briggs, and BR Kingsolver will not want to miss this latest addition to the urban fantasy scene!
978-1-7331873-4-3 | August 28, 2020
Don't forget to read book 1!